Check out this article by Market Watch Magazine that features Charleston Hospitality Group and their mission to attract a wide range of customers with its varied portfolio of restaurants and bars.
From Southern barbecue to all-day breakfast to seaside Mediterranean fare, Charleston Hospitality Group aims to have something for every type of guest. The company, which was founded in 2005 in its namesake South Carolina city, operates ten venues in greater Charleston today and has plans to take its flagship breakfast and brunch concept nationwide. The company's executives stress consistency and variety, aiming to offer a sufficient variety of meals and experiences to keep its customer base busy from sunup to sundown.
"Our brands have thrived on the idea of offering something for everyone. Everything we do is designed to reinforce that concept," says director of marketing J. Michael Walker. "Charleston has so much to offer and attracts a fantastic demographic of people, so relying on just one concept for our company would be short-sighted. Our variety of brands allows people the choice to eat at one of our restaurants no matter what they're craving, and we strive to consistently provide the best food and experiences that Charleston has to offer."
Charleston Hospitality Group boasts $12 million in annual revenue, with beverage alcohol comprising roughly 35% of total sales. The beverage component is a huge part of the company's experiences and each of its venues has a bustling bar program. Spirits and cocktails make up about 15% of total company revenue, followed by beer at 7% and wine at 6%, with non-alcoholic drinks comprising the remaining 8% of beverage sales. Charleston Hospitality Group emphasizes local products where possible, and offers beverages to fit within each restaurant's theme, from several types of Mimosas and Bloody Marys at the breakfast venue to beers at its barbecue joint, and domestic and imported wines at its upscale Southern concept.
"Each of our restaurants has beverage and cocktail lists that are curated specifically for the concept," says the group's director of operations, Jeff Deihl. "Charleston is a drinking town and our bar business is a huge part of our company. Having an innovative beverage program allows us to distinguish ourselves from our competitors in a way that is creative and fun for our consumers. We enjoy coming up with creative ways to reinforce each of our brands."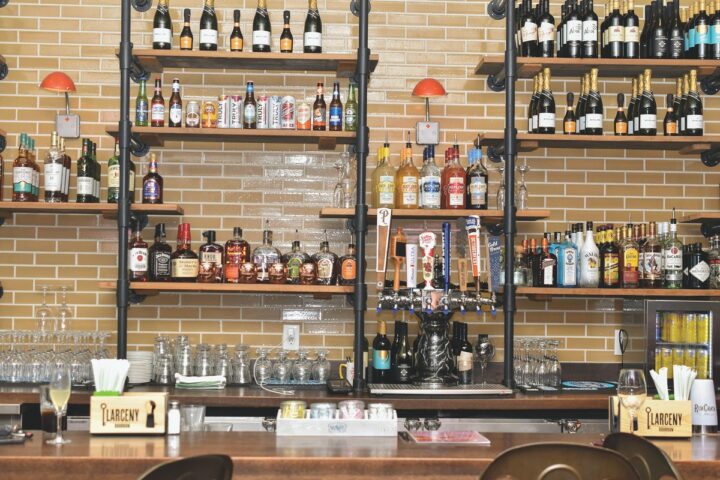 A Toast To Success
Charleston Hospitality Group was founded in 2005 when company CEO Sam Mustafa opened his first restaurant, Toast. Today, Toast boasts five locations around Charleston, and the concept has been pegged as the hospitality firm's future growth engine. Walker says that national and international expansion of the Toast concept begins this year through a franchise model, with seven new units set to open in 2021. The company's ultimate goal is to reach 100 units of Toast within the next decade. Units are expected to open this year in South Carolina beyond the Charleston area, as well as in Texas, Georgia, and Florida.
The drinks and food menus for Toast are standard across the concept. The venue emphasizes all-day breakfast and brunch, offering eggs and omelets prepared in myriad ways, along with signatures like Stuffed French Toast, crispy chicken and waffles, and biscuit-based sandwiches. These join brunch and afternoon specialties like surf and turf and shrimp and grits, as well as burgers, wraps, sandwiches, salads, and steak and seafood platters (food ranges from $4-$24 at Toast All Day in the Charleston suburb Mount Pleasant, South Carolina).
Mimosas and Bloody Marys highlight the beverage menu at Toast, as the concept lists several varieties of each. Mimosas range from a standard version made with fresh-squeezed orange juice and Wycliff California Brut sparkling wine to a cranberry juice-based Poinsettia, a St-Germain liqueur-based Hibiscus, and a Juarez Silver Tequila and grenadine-based Tequila Sunrise ($7 a glass; $14-$22 a carafe that fills four glasses). Toast's Bloody Marys incorporate a range of house-infused Fleischmann's vodkas, available in bacon, jalapeño, cucumber, and basil flavors (Bloody Marys are $9-$10 a glass; $26-$30 a carafe). A selection of specialty cocktails ($7-$9), from sangrias and punch to Mules and coffee-based drinks, are also available at Toast, joining a roster of 15 wines ($6-$8 a glass; $25-$99 a 750-ml.) and roughly 20 beers and ciders ($4-$7.50 a draft pour, bottle, or can).
"Each Toast has the same menu, but the design and architecture of each restaurant changes depending on the demographics of the area," Walker says. "We cater to the location of each venue to allow its geography and customer base to influence the overall concept. We're developing the Toast brand into a national and international franchise. While we remain consistent in the way we approach the customer, their experience, and the overall message we send, we also embrace change and work hard to adapt."
Being able to adapt was key in 2020 and that continues this year. Charleston Hospitality Group venues are open for both indoor and outdoor dining, as allowed by the state of South Carolina, and are practicing enhanced safety measures. Walker says the company's takeout and to-go business increased substantially during the Covid-19 pandemic and that he's optimistic about a full business recovery in the future. To help the community during recent rough times, the company launched its Full Belly, Full Hearts program last year, providing free meals to healthcare workers, laid-off hospitality workers, and others who lost their jobs during the Covid-19 crisis. Walker says the company takes its position to help the local community seriously.
Charleston Hospitality's bar program took the hardest blow last year. From a drinks perspective, Covid-19 had a massive impact, as South Carolina instituted a late-night curfew. "We took an initial hit when the pandemic started and we had to close for a month and a half," Deihl says. "As the community reopens, we still follow an 11 p.m. curfew. We continue to take a hit on our late-night venues where, pre-pandemic, our primary alcohol sales were between 11 p.m. and 2 a.m."
Bar Focused
With beverage sales reaching roughly $4 million a year, Charleston Hospitality Group puts a heavy emphasis on its bar programs and on letting the bar set the tone for an upbeat atmosphere. "Our brands stand out because we work hard to make them lively, fun, and energetic," Walker says. "We're dedicated to offering something new while also sticking to our high quality standards. Consistency is our main focus and we make it a point to treat all our guests, whether they're locals or tourists, as family. Now more than ever, we could all use a drink, and we want guests to count on us for having the most unique cocktails and beers as we continue to grow."
Along with offering a handful of Mimosas and Bloody Marys like its portfoliomate Toast, the Mediterranean concept Tabbuli has a lengthy specialty drinks menu, as well as a robust beer list. Tabbuli tenders signatures like the Ultimate Strawberry Basil Lemonade, made with Firefly Sweet Tea vodka, Bacardi Dragonberry rum, muddled basil and lemon, fresh lemonade, and strawberry purée, and the Peach Moonshine Julep, blending Firefly Peach moonshine, Kentucky Jack Straight Bourbon, peach purée, muddled mint, fresh lime juice, and Regatta ginger beer. Tabbuli also lists five variations of the Moscow Mule and classic staples like the Margarita, Mai Tai, and Mojito (cocktails are $9-$14), which join roughly 20 beers, from Budweiser, Miller Lite, Coors Light, and Guinness to local brews like Westbrook IPA and Island Coastal lager ($5.50-$7 a draft pour, can, or bottle). These complement Tabbuli's menu of appetizers like hummus and fried eggplant and such larger dishes as lamb-filled pitas, gyro sandwiches, kabob platters, and pizzas (food is $7-$31).
Wine shines at Charleston Hospitality Group's most upscale venue, Eli's Table, though the concept also offers a full roster of cocktails and beers. The restaurant serves high-end Southern fare, like duck and waffles,